25 Best Things to Do in the Hudson Valley, New York
New York's Hudson Valley is 150 miles of lush nature marked by hundreds of years of history, human endeavors, and breathtaking natural beauty. Home to charming towns like New Paltz, Catskill, Hudson, Poughkeepsie, Troy, Hyde Park, Kingston and many others, the valley has seen battles that formed the nation at Saratoga, NY, artists of the Hudson River School of Painters that defined how the world sees American art, and top chefs graduating from the Culinary Institute of America to provide us with fresh perspectives on food. You will find great day trips, unique restaurants, and more. Certain attractions may be temporarily closed or require advance reservations. Some restaurants are currently offering pickup only. Hours/availability may have changed.
1.The Thomas Cole National Historic Site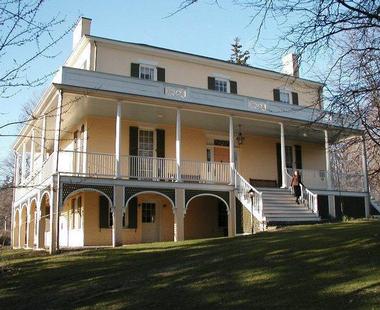 © The Thomas Cole National Historic Site
Thomas Cole put American art on the world map. He created a new style of painting that was uniquely American, and with his beautiful painting of Catskill landscapes, he laid the foundation of the Hudson River School of Art. Cedar Grove, the house in which he lived and painted, is located in Catskill, New York, and was opened in 2001 as a museum that celebrates the great artist's life.
Thomas Cole's paintings are on display in many of the world's museum, but about 150 of his paintings can be found in his home. The house is registered as a National Historic Site, and hosts numerous exhibitions, lectures about the Hudson River School, and other programs. Just a short trip from NYC, the Thomas Cole National Historic Site is perfect for a weekend trip.
218 Spring St, Catskill, NY 12414, 518-943-7465
2. Vanderbilt Mansion National Historic Site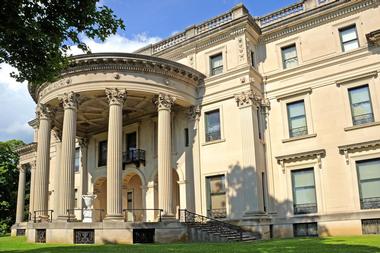 © Courtesy of sphraner - Fotolia.com
For those interested in architecture, you cannot pass up a visit to the Vanderbilt Mansion National Historic Site. Nestled amongst gardens and woodlands with views of the Catskill Mountains and rivers, the 54-room mansion is a prime example of Beaux-Art architecture. Modeled after a typical English country house, it is a reflection of an era rather than an attempt to pay homage to an individual person.
Sun yourself in the stunning terraced Italian Gardens, which were the pride and joy of Frederick Vanderbilt. The only way to visit the Vanderbilt Mansion is via a guided tour, and there are some restrictions on entry.
119 Vanderbilt Park Rd, Hyde Park, NY 12538, 845-229-7770
You are reading "25 Best Things to Do in the Hudson Valley, New York" Back to Top
Things to do near me today, beaches with kids, romantic parks, unique places to visit in USA right now, hotels, tourist attractions: Weekend Getaways from Seattle, NC day trips, FL, Near Atlanta, AL
3. Teatown Lake Reservation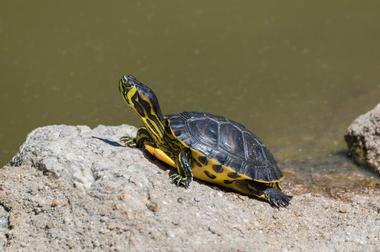 © Courtesy of Juan - Fotolia.com
There is no better way to understand why we should protect the environment than to enjoy it daily and see it in its full glory season after season. Teatown Lake Reservation offers residents of Westchester County in New York 1000 acres consisting of a magnificent nature reserve with lakes, animals, rare native plants, and 15 miles of trails to enjoy and explore. The reservation was established on the 194-acre gift from the family of Gerard Swope. It grew to 1000 acres and today includes 41-acre Teatown Lake, 9-acre Vernay Lake, and 7-acre Shadow Lake along with waterfalls, streams, hardwood swamps, meadows, mixed forests, hemlock forests, and many laurel groves.
The reservation includes an Education Center that runs numerous programs and outreach activities with the local communities and schools. The Nature Center has live animal exhibits, a Nature Store, and an art exhibit space. The two-acre Wildflower Island holds an outdoor exhibit with 230 species of wildflowers, an outdoor classroom, a maple sugar house, the Wildflower Woods, a butterfly and bee garden, a sensory garden for the kids, and a raptor loop with owls, hawks, kestrels, and an eagle.
1600 Spring Valley Rd #1, Ossining, NY 10562, 914-762-2912
You are reading "25 Best Things to Do in the Hudson Valley, New York" Back to Top
Long weekend getaways with friends near you, weather, best small towns, what should I do in for couples, cheap, with friends, nearby beach, fun things to do near me today: CO, From San Diego, VA, OH, WI, MI, IL, IL, VA, San Diego, TX
4.Cohoes Falls, Fall Views Park, Hudson Valley
© Courtesy of Thomas - Fotolia.com
Fall Views Park in Cohoes is home to the spectacular Cohoes Falls. With four acres of falls, rivers, and walking trails, it is a naturally stunning vista where you can spend an hour or two. The Upper Level offers easy access for everyone. Here you can enjoy a picnic or fishing trip with your family. The area features enlightening panels that inform visitors of the historical, educational, and geological significance of the falls and park. For those with a high level of fitness there is access to the bottom of the falls via a staircase. A trip to Cohoes Falls is a great family activity.
North Mohawk Street, Cohoes, NY 12047
You are reading "Fun Things to Do in the Hudson Valley, New York this Weekend with Friends" Back to Top or More places to see near me today, what to do, weekend trips
Nearest romantic getaways today at night, places near me, local wedding venues, best small beach town, restaurants, outside, things to do with kids near me, staycation, beaches, resorts near me, how do I plan: NC beaches, Ft Lauderdale, Day trips from NYC, From Chicago, PA, CT, CA, Hilton Head, Castles in Texas, GA beaches
5.Hudson Valley Center for Contemporary Art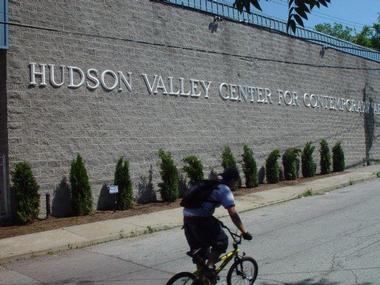 © Hudson Valley Center for Contemporary Art
The family of Marc and Livia Straus founded the Hudson Valley Center for Contemporary Art in order to develop exhibitions and programs that promote understanding of contemporary art and its link to modern social issues. The 12,000 square foot exhibition space allows the center to organize high quality temporary and long-term exhibits and installations, supporting both emerging and established artists.
The center also provides artists with a space to build their long-term installations and organizes lectures and discussions. It is also the main sponsor of the Peekskill Project, an annual exhibition of artwork that is site-specific.
1701 Main St, Peekskill, NY 10566, 914-788-0100
You are reading "What to Do in the Hudson Valley, New York this Weekend" Back to Top or Restaurants near me, stuff to do near me
Where should I go this weekend for fun, adventurous places to visit near me today, famous for, kid friendly, hotels open near me, what can you do in for free, beaches, resorts near me, time zone, best restaurants near me, natural wonders: FL, CA, Myrtle Beach, OR, New England weekend, Charlotte, Williamsburg, LA, PA
6.SUNY Poly's Children's Museum of Science and Technology
© Children's Museum of Science and Technology
SUNY Poly's Children's Museum of Science and Technology (CMOST) is the kids' science museum in Troy, New York, where adults are not allowed unless children accompany them. The College of Nanoscale Science and Engineering operates the museum, which has a range of exhibits, including a digital planetarium and more than 100 live animals.
All exhibits are interactive and kids get to try their hand at construction, learn about how machines work, build some houses, learn about Hudson River animals and their habitats, explore nano technology so that they can explain it to their parents, and in general have a great time while learning all sorts of cool stuff.
250 Jordan Rd, Troy, NY 12180, 518-235-2120
You are reading "Top Romantic Tourist Attractions in the Hudson Valley, New York" Back to Top or More must do for couples, what to do near me, places to visit this weekend
Where can I go for top-rated things to see near me, fun things to do today, hotels near me, with toddler, social distancing, places near me, list of, stuff to do near me, rentals, beach and last minute resort ideas for couples, places to hike near me: Denver, Sanibel Island, Boca Raton, Louisville, CA, Virginia Beach, San Antonio, AZ
7.Edward Hopper House Art Center, Hudson Valley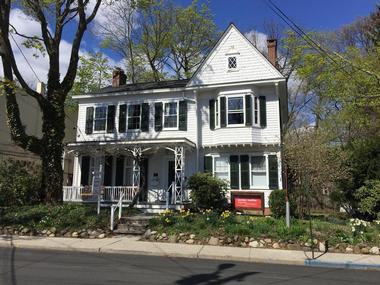 © Edward Hopper House Art Center
Visiting homes of great artists gives us a feeling that we can better understand what inspired their achievements. The renowned American painter Edward Hopper was born in a charming house in Nyack, New York and he lived in it until 1910. After he died, the community restored the house and in 1971 turned it into an art center.
The Edward Hopper Landmark Preservation Foundation manages the house, and they work on preserving Hopper's birthplace and his memorabilia and documents. They also organize numerous exhibitions of art in all media, screen art-related movies, and put on popular concerts in the garden. Tours of the center are accompanied by knowledgeable docents who are there to share stories about the life and work of Edward Hopper and the artists whose work is on exhibit at the time.
82 N Broadway, Nyack, NY 10960, 845-358-0774
More ideas: 25 Best Day Trips from NYC
You are reading "What is There to Do with Kids in the Hudson Valley, New York" Back to Top or More tourism, attractions for couples, food, things to see near me today
Top things to see near me, beaches, cruises, parks near me, underrated tourist attractions downtown, travel blog, attractions, places near me right now, things to do near me, vacations, resorts near me, family weekend breaks, mountains, open now, tonight, breakfast near me, affordable rental, kids activities near me, campgrounds near me: Catskills, Pink Sand beaches, Best Places to Visit, Bar Harbor, Destin, Minneapolis, Jacksonville, Wedding, Key West, Nashville, AZ, From LA
8.Saugerties Lighthouse, Hudson Valley
© Courtesy of Moelyn Photos - Fotolia.com
In the middle of the Hudson River near Saugerties, NY sits a beautiful romantic bed and breakfast. The Saugerties Lighthouse was built in 1835 to facilitate navigation on the river and is still carrying out that role. Meticulously maintained and restored, it is also a living museum and a proud witness to more romantic times.
You can visit the lighthouse tower to see the still functioning but modernized mechanism as well as magnificent vistas of the river and its surroundings. The lighthouse has been converted into a renowned bed and breakfast, and it is hard to imagine a more romantic space for Valentine's Day weekend or a honeymoon.
168 Lighthouse Dr, Saugerties, NY 12477, 845-247-0656
9.Hudson Beach Glass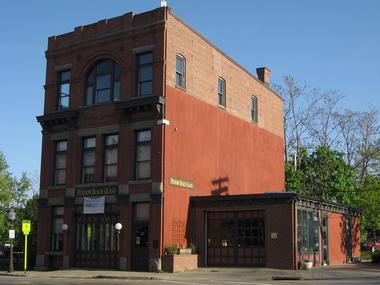 © Hudson Beach Glass
Visiting Hudson Beach Glass gallery is a delight for all ages: it is full of beautiful glass objects in all colors of the rainbow, some you would love to see on your table and others pure artistic whimsy. Visiting Hudson Beach Glass studio is even more fascinating.
You can see four artists who founded the studio in 1987 at work or even try your hand at making your own Christmas ornaments at one of their many courses and demonstrations. The studio is located in a former icehouse, and the gallery in an old firehouse on Main Street in Beacon, NY.
162 Main St, Beacon, NY 12508, 845-440-0068
"Best Things to Do in the Hudson Valley, New York for Locals & Tourists - Restaurants, Hotels" Back to Top or Beautiful places near me, what to do, restaurants for breakfast, travel guide, nearest beach
What to do near my location downtown at night in fall, winter, spring, spa near me, summer, places to go, wedding venues near me, beach, wedding venues, open parks, hotels near me, burger, nature park, nice restaurants near me: NC, NM, ME, VegasFrom LA, WY, Hot Springs, Midwest , Things to Do in Reno, Ohio castles,, KY, South Padre Island, Dream vacation spots
10.Troy Waterfront Farmers' Market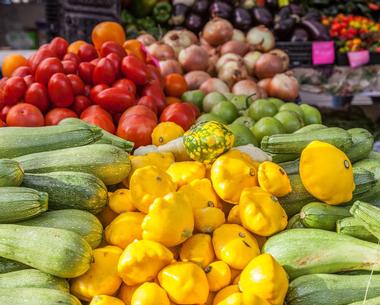 © Courtesy of Leslie - Fotolia.com
If you happen to be in Hudson Valley on a Saturday morning, make sure you take a walk through the Troy Waterfront Farmers' Market. The smell of fresh bread and food will waft towards you before you even set foot in the market. Sample fresh food and listen to fantastic live music as you wander amongst the stalls.
There are over 70 growers, bakers, chefs, and artisans who display their wares, catering to all tastes and requirements. Enjoy fresh local produce direct from the grower or pick up a meaningful gift for that hard to buy for person. A trip to the market provides a perfect morning out for the whole family.
Monument Square, Troy, NY 12180
11.Manitoga - The Russel Wright Design Center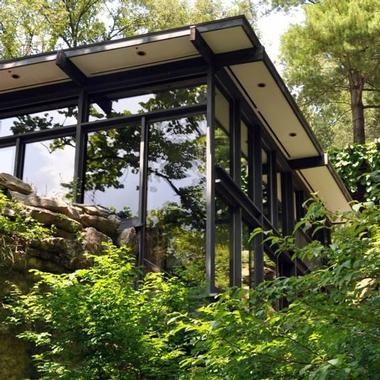 © Manitoga
Manitoga or "place of the great spirit" is a living establishment that famous American industrial designer Russel Wright spent 30 years building. The 75-acre property situated on the site of a former quarry served as the canvas for his art and imagination. He created a 30-foot waterfall, moved boulders, filled ponds, and built a house called Dragon Rock that is considered a superb example of the 50s Organic Modern architecture.
He seamlessly blended the interior with the exterior by using natural materials from the surrounding area while building the house to create a dramatic home and a studio. Both the house and gardens are open to the public through organized tours.
584 NY-9D, Garrison, NY 10524, 845-424-3812
"New cool stuff to do in the Hudson Valley, New York" Back to Top or Romantic Getaways, Wedding Ideas close to me this weekend, honeymoon, anniversary Ideas, fun places near me
Cool places to go near me in spring, couple, activity, what is, time, fine dining near me, fancy restaurant, activities near me, beach hotels, fishing, parks near me, campground, RV resorts, winery, what's near me, bay, attractions near me, list of, orchards, national parks: MA, FL, Caribbean, All-inclusive Jamaica, AR, CO, ME, KS, CT, Missouri caves, Gadsden, Pismo Beach, Blue Ridge, Best caves in Missouri, Beaches Near Atlanta, NJ, FL caves
12.Franklin D. Roosevelt Presidential Library and Museum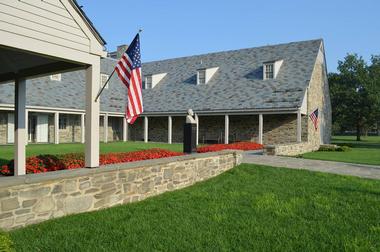 © Franklin D. Roosevelt Presidential Library and Museum
Follow in the footsteps of Franklin and Eleanor Roosevelt with a visit to the Franklin D. Roosevelt Presidential Library and Museum. Admire intimate photographs, manuscripts, family documents, and movies and learn more about the lives and deaths of Franklin and Eleanor as well as the impact they continue to have on contemporary life.
Wander through exhibits with memorabilia including models, prints and paintings, gifts to the state, gifts from the American people, and family heirlooms. A highly interactive experience offers guests a chance to see what life is like at the Oval Office Desk. A visit to the library and museum is a fantastic introduction to the world of history and politics.
4079 Albany Post Road, Hyde Park, NY 12538, 845-486-7770
13.Franklin Delano Roosevelt National Historic Site
© Courtesy of lightningboldt - Fotolia.com
If you are looking for a complete Franklin D. Roosevelt experience, take a tour through Top Cottage, the Roosevelt country home. This is the home where Franklin and Eleanor Roosevelt eventually retired and in which they entertained many famed guests, from politicians to members of royalty.
Step back through time and visit the cottage as it would have been in early 1800s and witness the early technology that helped Franklin Roosevelt learn to live with his disability and continue to serve as President of the United States. Combine a visit to the Franklin D. Roosevelt site with a visit to Val-Kill, the cottage that once belonged to Eleanor Roosevelt.
4097 Albany Post Road, Hyde Park, NY 12538, 845-229-9115
14.Eleanor Roosevelt National Historic Site
© Eleanor Roosevelt National Historic Site
Also located in Hyde Park is the Eleanor Roosevelt National Historical Site. Walk through Val-Kill, the only National Historic Site dedicated to a First Lady. Eleanor would move to Val-Kill after her husband's death in 1945 and remain there until her death in 1962. Val-Kill played a prominent role in Eleanor's movement to provide work for rural workers and women.
Declared a Historic Site in 1984, great care has been taken to preserve and restore the cottage back to the glory it enjoyed in the mid 1900's. Tour the cottage that belonged to Eleanor Roosevelt and spend an hour in the sunshine at the beautiful long-established gardens.
56 Valkill Park Road, Hyde Park, NY 12538, 845-229-9422
15.Storm King Art Center, Hudson Valley
© Storm King Art Center
Make a visit to Storm King Art Center a high priority on your trip to the Hudson Valley. The center is recognized worldwide for its amazing art and sculptures set on a five-hundred-acre farm consisting of fields, hills, and woodlands.
Wander the trails and see over 100 carefully positioned sculptures surrounded by nature, or you can choose to rent a bike and cycle the trails. Make sure you visit the Museum Building where you will find smaller sculptures and artwork on loan from artists, collectors, galleries, and museums. A visit to this center will provide a simplistic, yet stunning family day out.
1 Museum Road, New Windsor, NY 12553, 845-534-3115
You are reading "25 Best Things to Do in the Hudson Valley, New York" Back to Top or Amazing things to do around me & More pictures of fun cheap vacation spots
Day trips from, good restaurants near me, motel, spa hotels, southeast, northeast, southwest, northwest getaway ideas, couples only suites, public beach near me for sunsets, breakfast near me, local retreat, on a budget, takeout, most popular small town, things to do near me, drive in movie, tropical island, how to spend a day locally, state park, romantic getaways with pool: Madison, Places to Visit in Louisiana, Charles Town, Corsicana, Delavan, Cranston, Custer, NYC, Palo Alto
16.Innisfree Garden
© Innisfree Garden
Innisfree Garden was built to reflect founder Walter Beck's fascination with Asian art, especially poet and painter Wang Wei. Landscaped with Chinese and Japanese design in mind, the area features small, intricate gardens situated within a wider landscape.
Innisfree Garden includes 150 acres of gardens, streams, waterfalls, terraces, walls, rocks, and plants with 360-degree views. Vivid greenery, stunning colors, and the calls of birdlife greet you at every turn. The gardens are self-guided and will take you around ninety minutes to fully explore.
362 Tyrrel Road, Millbrook, NY 12545, 845-677-8000
17.Motorcyclepedia Museum, Hudson Valley
© Motorcyclepedia Museum
A trip out to the Motorcyclepedia Museum is a special treat. Home to over 500 motorcycles from 1897 to the present day, almost every type of motorcycle is represented here. Visit galleries that include the Indian Timelines, Harley-Davidson, Chopper City, and Police and Military Motorcycles. There is also a tribute to performing motorcycles with displays such as the Wall of Death from the Kamikaze Pit Lenger of Germany.
Care and attention has been paid to the staging of the displays, and the staff is incredibly knowledgeable. The Motorcyclepedia Museum offers a fun family day out.
250 Lake Street, Newburgh, 12550 NY 845-569-9065
You are reading "25 Best Things to Do in the Hudson Valley, New York" Back to Top or More weekend getaways, what to do near me, must see attractions, stuff to do near me
Places to eat near me, coffee shops, flea, farmers market, tropical honeymoon trip finder, wedding venues near me, lunch, brunch, restaurant near me, RV camp, cruise, hotel, where to stay, sandy beach by car: Things to Do in Sioux Falls, Things to Do in Okahoma, Wytheville, Woodstock, Things to Do in Chelsea, New York castles, USA islands, Romantic Weekend Getaways in South Dakota, Honeymoon Ideas, Fernandina Beach, Tampa Resorts, Spartanburg, Florida Keys Camping, Things to Do in Vancouver BC
18.Wilderstein Historic Site
© Wilderstein Historic Site
There are some sites that simply have to be seen to be believed, and the Wilderstein Historic Site is one of them. Located on 40 acres of woodland bluff, the gorgeous estate overlooks the Hudson River. Beautiful flowers and gardens have been arranged in the American Romantic Style, with gazebos and garden seats dotted along the network of carriage drives, walks, and trails.
The gentle, flat landscape makes the grounds accessible for everyone. Tour the mansion that was built in the 1800's and has been remodeled and enlarged over several centuries so that it is now reminiscent of the Queen-Anne style. The site houses 15,500 cataloged objects, tens of thousands of photographs, books and other items dating from 1540 to 1991.
330 Morton Road, Rhinebeck, NY 12572, New York, 845-876-4818
19.Old Rhinebeck Aerodrome
© Old Rhinebeck Aerodrome
The Old Rhinebeck Aerodrome is a unique museum for aviation enthusiasts. With five massive collections on display, including Pioneer Aircraft, World War I Aircraft, Golden Age Aircraft, Aircraft Engines, and a stunning display of vintage Ground Vehicles, you will spend hours wandering the museum hangers.
In addition to offering static displays, each weekend from mid-June through to mid-October, they offer air shows, and you can even take a ride on a biplane.
9 Norton Road, Red Hook, NY 12571, 845-752-3200
You are reading "25 Best Things to Do in the Hudson Valley, New York" Back to Top or Getting married, lunch near me, romantic things to do, places around me
Weekend trips, what is a great day trip destination, couples getaway, romantic hotels, unique places to stay, East, North, West, South, cheap getaways, staycation, must visit islands, botanical gardens, hamburgers, bbq, snowboarding, skiing, trailer parks near me, hot springs, quick trip: Lakes in New York, Astoria, Vestal, Big Island hotels, Best places to visit in Croatia, Luxury vacation ideas
20.Joseph L. Bruno Stadium, Hudson Valley, NY
© Courtesy of Aard Lumens - Fotolia.com
Located at Hudson Valley Community College, the Joseph L. Bruno Stadium is home to the Tri-City Valley Cats baseball team from the New York-Penn League. The stadium has seating for 4,500 spectators, a restaurant, and a massive video/scoreboard so even those all the way in the back are part of the action.
"The Joe" is a popular spot for families. It boasts an inflatable play area, giveaways, firework displays and other events.
80 Vandenburgh Ave, Troy, NY 12180, 518-629-2287
21.Opus 40, Hudson Valley
© Opus 40
Opus 40 is a 6.5-acre sculpture park created by Harvey Fite in 1939. Built on the site of a bluestone quarry, the park features millions of pieces of bluestone, all of which have been laid by hand. Ramps and terraces rise out of the ground and surrounding pools, trees, fountains, and sculptures.
The natural landscape of the quarry has made for a unique stage, and you can head sixteen feet below to the epicenter of the main sculpture. Fite has expertly matched the natural landscape with man-made art. Opus 40 is open from Memorial Day through the end of October, and by appointment off season.
356 George Sickle Rd, Saugerties, NY 12477, 845-246-3400
Next read: 25 Best Things to Do in the Catskills, New York.
22.Trevor Zoo, Hudson Valley, NY
© Courtesy of jgolby - Fotolia.com
The Trevor Zoo is the only zoo in the United States that is located at a working high school. Millbrook School students are all encouraged to learn about and look after the animals here. In the 6-acre zoo, you will visit over 180 exotic and indigenous animals, with approximately 80 species represented. See red pandas, red wolves, and bobcats as well as many other creatures. This zoo offers its visitors something a little different than most traditional zoos and is a unique familyvacation experience.
282 Millbrook School Road, Millbrook, NY 12545, 845-677-3704
You are reading "25 Best Things to Do in the Hudson Valley, New York" Back to Top or More romantic weekend getaways, more places of interest in, wedding venues near me, time zone, what to do
Romantic resorts, dog friendly cabin, boutique inn, B&B, hostel, photos, maps, discounts, conference, couples retreat, shows, good food near me, things to do with kids near me, weather, airport, vegetarian, seafood, breakfast near me, indoor, outlet mall: Orem Carlsbad restaurants, Albany vacation ideas
23.Catamount Aerial Adventure Park
© Courtesy of auremar - Fotolia.com
Fly high above the treetops at the Catamount Aerial Adventure Park. Don a helmet and safety harness and head into the world among the trees. Climb ladders, cross bridges, tackle obstacles, and zip line on one of the 12 courses in the 10-acre park. As you progress through each course, the difficulty will increase, requiring balance, agility, focus, and strength.
The courses go up in varying degrees of difficulty so there is a course suitable for every age group (though the park minimum is age 7 and up) and fitness level. The Catamount Ariel Adventure Park is open seasonally from May through October.
300 State HW 23, Hillsdale, NY 12529, 518-325-3200
24.Ze Windham Wine Bar
© Courtesy of stokkete - Fotolia.com
Ze Windham Wine Bar is a quirky, cozy 22-seat wine bar on Windham's Main Street that offers well-selected wines from both sides of the ocean in a homey, inviting atmosphere. The bar is located in a historic 200-year-old house with eclectic Scandinavian décor. It has a feel of a rich grandma's parlor rather than a public place, but you will love all the books you can flip through while sipping your chardonnay as well as the multitude of fun and curious decorative pieces. They serve delicious local cheeses, cold cuts, pastries, cakes, and tapas, perfect for sharing with friends. You can also get a cup of coffee, tea, or beer if you insist.
5369 Main Street, Windham, NY 12496, 518-734-9200
25.Hudson Highlands State Park
© Courtesy of oldmn - Fotolia.com
If you love the great outdoors, be sure to visit Hudson Highlands State Park. Situated on nearly 6,000 acres of untouched land, the park provides plenty of activities to keep you busy for the whole day. For the hikers, there are hundreds of trails ranging from easy to challenging. For those who love the water, view the park from boat, kayak, and canoe and join one of the many tours.
Hike the Appalachian Trial, or visit Bannerman Island – there is just so much to do. See rare and endangered birds such as peregrine falcons and bald eagles along the banks of the Hudson River. Have a fun, family friendly day out in the wilderness.
READ MORE: https://vacationidea.com/destinations/best-things-to-do-in-the-hudson-valley.html